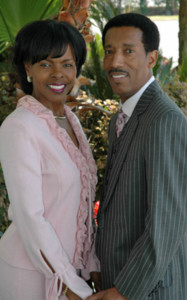 The heart of our ministry is to raise up a nation and teach the people of God how to be established in His Word to such a degree that they may skillfully apply the Word to their everyday lives in a spiritual as well as a practical and effective manner by reaching out to our immediate world, and spreading the Gospel of the kingdom to the lost so that they too can overcome their world. Jesus is Lord!         

Pastor Thomas W. Riley is the Founder and Pastor of World Overcomers Ministries Christian Center, a non-denominational, church which teaches the Word of faith with two locations in N. Charleston, and one location in St. George, SC. He is a dynamic teacher who teaches the Word of God with insight, revelation and simplicity. Pastor Riley is also a distinguished praise and worship leader and psalmist with a unique gift and passion for music and the arts.
Pastor Annette Riley met Pastor Riley at her former church and they were married in 1989. Pastor Annette assists Pastor Riley in ministry in the area of Administration and teaching the Word in Women's Ministry and a weekly morning service entitled "Embracing the Word." She also enjoys and participates in the music ministry where she has utilized her gifts and talents.